SPECIAL FEATURES:
 Calculates C-level from the residual oxygen content of a gas or CO2-content from the furnace atmosphere
 Various types of thermocouples, lambda-, O2-probes and other gas sensors e.g. CO, CO2
C-level correction by foil tests
Color-TFT-touch-screen display with additional keypad
Multi-user access with usernames, pass-words and access levels
Isolated analog inputs
Current supply 115 or 220V 50/60Hz or 24V
Optional: Profibus, Modbus and "MESA Legacy" protocols
Principle of Operation:
MCON Carbo 48 and 16 is a new and advanced calculator of carburizing processes in heat treatment plants.
As a graphic recorder, the new calculator can record all measured values.
The unit processes the input signals and outputs the desired output variable as a voltage or current unit signal.
All commercial thermocouples, lambda- and oxygen probes as well as gas sensors,
e.g. CO, CO2, can be connected to the MCON Carbo 48 and 16.
There are up to 5 analog alarms. Each alarm can be configured to monitor analog input or calculated values and it can activate dedicated digital output for some error/unregularly values.
User accounts with password protection improve the safety in usage by locking access levels, parameters and functions depending on user privileges.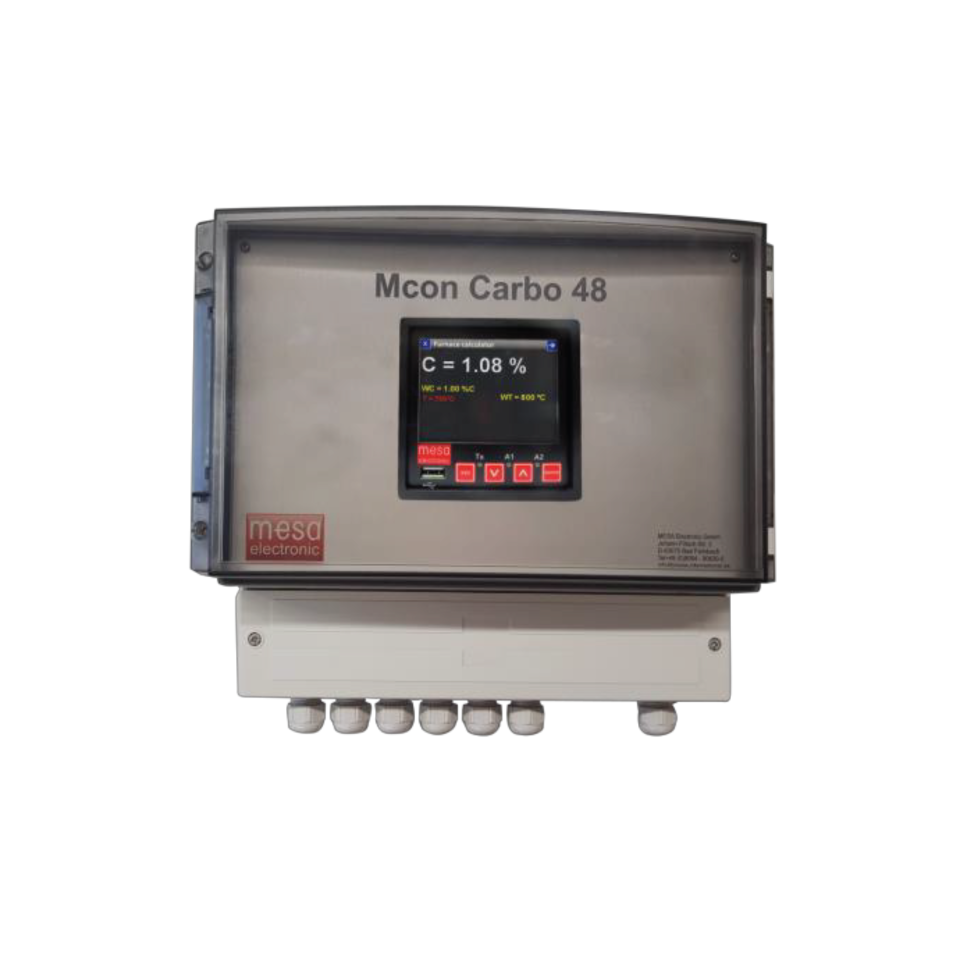 ADVANTAGES
Compatible with all new MESA equipment
Custom alarms
Diagram display
Isolated RS485 / 422 Modbus interface, "MESA Legacy"
Data transfer and firmware update via USB interface
Technical Data
Degree of Protection:
IP54 according to IEC 60529
Dimensions:
MCon Carbo 16
96 x 96 x 111 mm (W x H x D)
MCon Carbo 48
296 x 256 x 118 mm (W x H x D)
Housing made of polystyrene

Power Supply:
AC 85VAC…265VAC, 50-60Hz
Power Consumption:
15VA
Display:
Color-TFT-touch-screen display, 320 x 240 pix
16it, 3,5' with robust touch-screen
Communication Interface (Optional):
Isolated RS485/422, Profibus
Climate:
Storage: -10…+70 °C
Operation: 0…+50 °C
5…95 % relative humidity, non-condensing
Analog inputs:
AIN 1:
– Thermocouple, Type "K" or "S"
AIN 2:
– L-probe
– O2 probe
– CO2-Analyzer
AIN 3:
– CO-Analyzer
Analog outputs:
AOUT 1:
– Raw O2 probe voltage
– Calculated O2 probe mV from L-probe mV
AOUT 2:
C-level: 0…2,0 %C -> 0…20 mA or 0…10 V
AOUT 3:Temperature: 0…1200 °C -> 0…10 V
AOUT 4:
mV O2 corrected
C-Level Measuring Range:
0…2.0 %C
C-Level Measurements:
Sensors for measurement: O2, lambda probes or
CO2 analyzer
Fixed or measured CO
Up to 5 Foil test correction points