CONTROL ACCESSORY TYPE: UZ 49
SPECIAL FEATURES:
Connection to continuous or noncontinuous temperature controllers
Triggering of up to 12 burners
Screw-type and mounting rail fastening
Overtemperature input
Adjustable burner on time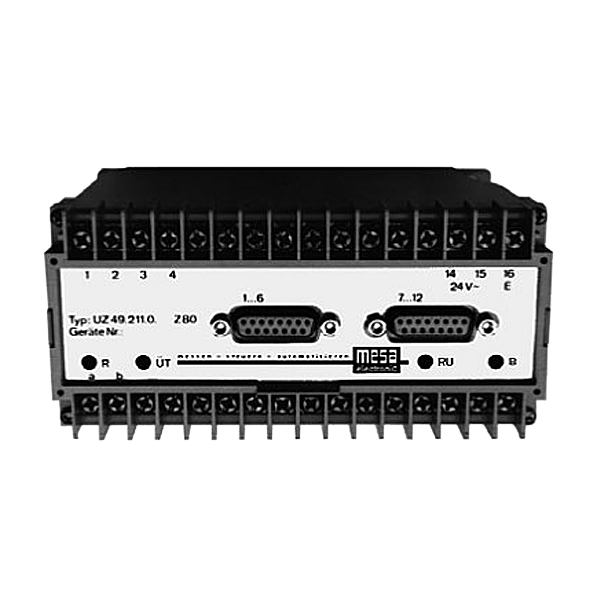 FUNCTION
The Control Accessory is used for power-dependent, cyclic all-round control of Rekumat burners or radiant tubes in gas-fired furnaces. The burner on time is kept constant for all-round operation and the burner OFF time is adapted to the momentary power requirements.
This technique improves the efficiency of the furnace, produces a uniform furnace room temperature and a constant furnace room pressure. Output circuits and relays are accommodated in one or two accessory housings ZUZ 49… of the same construction.
The two units are connected by a pluggable bus cable.
UZ for connection to a non-continuous controller
Construction:
Plastic housing with open terminals alternatively with screw fastening (DIN 46121) or mounting rail fasten- ing (DIN 46277)
Dimensions:
150 x 70 x 112 (lxwxh)
Auxiliary voltage:
24 Vac ± 10 % / 50-60 Hz
Input:
Control contact (working contact)
Overtemperature contact (rest contact)
The contacts must be potential-free and are loaded with approx. 20 mA. (Lay lines with shield and earth shield on controller side only.)
Output:
In connection with supplementary unit 6 burner connections (1 ZUZ 49…) 12 burner connections (2 ZUZ 49…) (1 working contact per connection for the solenoid valve "Gas" and "Air"). The contacts are potential-free and can be loaded with a max. 8 A/250 Vac.
Times:
• Burner ON time in continuous operation: adjustable 10…35s special model: 20…70 s
• Air lag time: rinse time after gas OFF: adjustable 0.3…2 s
• Overtemperaturemonitoring: Allburnersareswitchedoff5safter overtemperature signal.
Power consumption:
with 12 burners approx. 36 VA
Perm. ambient temperature:
0…50 °C
Displays:
LED operation
LED all-round operation
LED controller contact ON
LED overtemperature ON
UZ for connection to continuous controllers
Construction:
Plastic housing with open terminals alternatively with screw fastening (DIN 46121) or mounting rail fasten- ing (DIN 46277)
Dimensions:
150 x 70 x 112 (lxwxh)
Auxiliary voltage:
24 Vac ± 10 % / 50-60 Hz
Input:
20…0 mA (100% ED = 20 mA) or 0…20 mA (100% ED = 0 mA) Overtemperature contact (rest contact) The contact must be potential-free and is loaded with approx. 20 mA. (Lay lines with shield and earth shield on controller side only.)
Output:
In connection with supplementary unit 6 burner connections (1 ZUZ 49…) 12 burner connections (2 ZUZ 49…) (1 working contact per connection for the solenoid valve "Gas" and "Air"). The contacts are potential-free and can be loaded with a max. 8 A/250 Vac.
Times:
• Burner ON timeincontinuousoperation: adjustable 10…35 s
special model: 20…70 s
• Air lag time:
rinse time after gas OFF:
adjustable0.3…2s
• Overtemperaturemonitoring:
All burners are switched off 5 s after an overtemperature signal.
Power consumption:
with 12 burners approx. 36 VA
Perm. ambient temperature:
0…50 °C
Displays:
LED operation
LED all-round operation
LED overtemperature ON