CONTROL ACCESSORY TYPE: RZ
SPECIAL FEATURES:
Connection to Rekumat burners (RB) or Rekumat radiant tube burners (RS)
Screw type or mounting rail fastening
Overtemperature input
Power dosing input
Adjustable burner on time
Function display by LEDs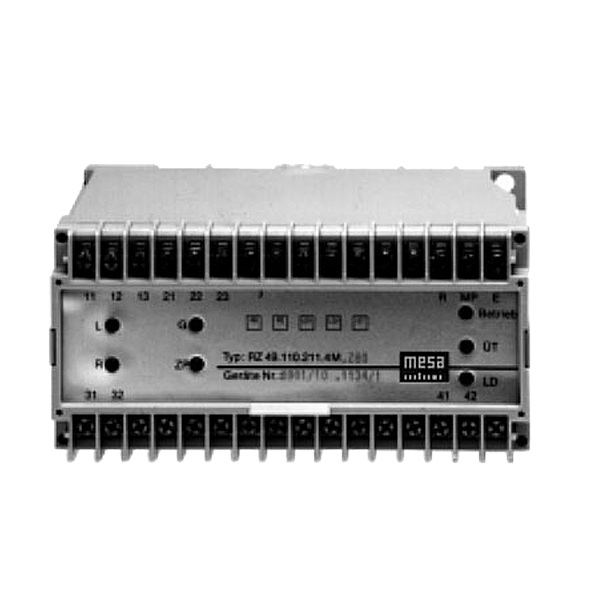 FUNCTION
The Control Accessory is used in connection with a Rekumat burner (RB) or Rekumat radiant tube burner (RS) to calculate the switch on time of the built-in twoposition controller in the controlled member.
The ON time of the burner corresponds to the process conditions.
The control accessory is equippedped with a microprocessor that calculates the power requirements.
Different function versions are available.
RZ-RS (Rekumat radiant tube burner)
Construction:
Plastic housing with open terminals, alternatively with screw fastening (DIN 46121) or snap fastening
(mounting railDIN46277)
Dimensions:
150 x 70 x 112 mm (wxhxd)
Installation position:
any
Auxiliary voltage:
115 / 230 Vac ± 10 % / 50 – 60 Hz
Power consumption:
approx. 8 VA
Input:
• Controllercontact(workingcontact):
The contact must be potential-free and is loaded with approx. 20 mA
• Analog input: Thermoelement NiCr-Ni with automatic reference point compensation
Output:
1 radiant tube burner connection (one changeover contact each for the solenoid valves "Gas" and "Air").
The contacts are potential-free and can be loaded withamax.1A/max.250Vacor max.0,2A/125Vac, max.2A/30Vdc according to type.
Burner ON time in all-round operation:
30 s (adjustable between 23 and 37 s in case of overtemperature monitoring)
Air rinsing time:
2 s (adjustable from 1…2 s)
Overtemperature monitoring:
Overtemperature adjustable from 1000…1200 °C, the gas valve is switched off and the air valve on after detecting overtemperature.
Power dosing:
in ranges 850…1000 °C or 950…1100 °C
power reduction from 100% to 50% (quasi-continuous)
Perm.ambienttemperature
0…50 °C
RZ-RB (Rekumat burner)
Construction:
Plastic housing with open terminals, alternatively with screw fastening (DIN 46121) or snap fastening (mounting railDIN46277)
Dimensions:
150 x 70 x 112 mm (wxhxd)
Installation position:
any
Auxiliary voltage:
115 / 230 Vac ± 10 % / 50 – 60 Hz
Power consumption:
approx. 8 VA
Input:
• Controllercontact(workingcontact):
The contact must be potential-free and is loaded with approx. 20 mA
• Analog input:
Thermoelement NiCr-Ni with automatic reference point compensation
Output:
1 radiant tube burner connection (one changeover contact each for the solenoid valves "Gas" and "Air").
The contacts are potential-free and can be loaded withamax.1A/max.250Vacor max.0,2A/125Vac, max.2A/30Vdc according to type.
Burner ON time in all-round operation:
15 s (adjustable between 8 and 23 s in case of overtemperature monitoring)
Air rinsing time:
1 s (adjustable from 0.5…1 s)
Overtemperature monitoring:
Overtemperature adjustable from 1000…1200 °C, the gas valve is switched off and the air valve on after detecting overtemperature.
Perm. ambient temperature:
0…50 °C