GEA WITH MK2.1 AND L-PROBE
SPECIAL FEATURES:
Oxygen measurement in gas atmospheres
simple gas sampling
Inexpensive
Reliable
Insensitive to temperature
Insensitive to vibration
Easily replaceable
Fitting adapted to customers needs
FUNCTION
The probe measures the residual oxygen content in a measuring chamber at the end of the measuring gas fitting.
The probe signal can be tapped off as a voltage. The probe is heated with a constant voltage. For supplying the heating only power supply inits approved by MESA may be used.
The quantity of gas passing the probe should be within a range of 20…50 l/h. Too much gas volume can change the highly constant probe temperature, which results in a falsification of the measured value. Every probe includes two constants (K1 and K2). These constants must be entered in the measuring instruments (e.g. intelligent measuring transmitter Carbo47,Carbomat-M, MCON Carbo).Ifnottherewillbe some measuring faults.
TECHNICAL DATA:
Dimension of sensing head:
105 x 290 x 45mm (BxHxD)
Rated length:
400…1100 mm
Connection L-probe:
snap closure
Necessary additional parts:
NTV44P for heating the L-probe and controlling temperature.
Measuring range:
0…1300 mV
Optional devices
• Carbo 15/ 47
• MCon Carbo 16-48
• Carbo 100
• Carbo 1000
• Carbomat-M
• MCON Carbo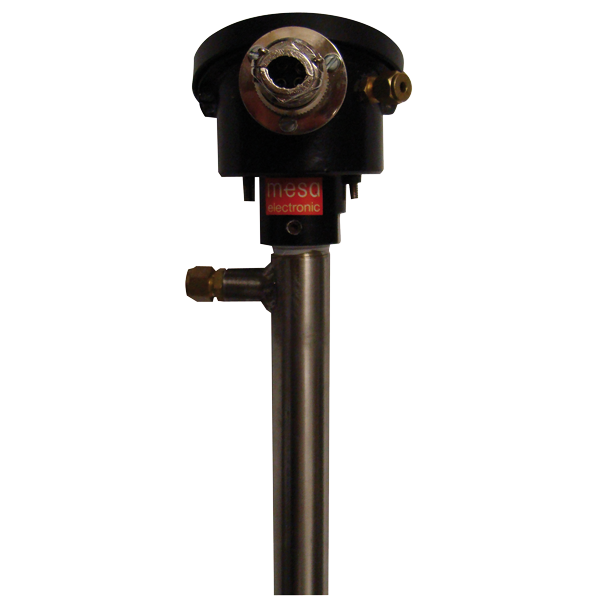 Address
Johann-Flitsch-Strasse 2
83075 Bad Feilnbach