SPECIAL FEATURES:
Menu-guided operation
Foil keyboard
Exact control
Connections of two thermocouples by choice
Input for MESA H2-measuring system
Program memory with 99 setpoint- programs for H2- and process temperature (time-synchronous)
Program tracks, free eligible
Position-proportional control
ON/Off-PID-control
Transfer outputs
Options:
· Setpoint generator for process temperature
· Serial interfaces (RS422/RS485)
FUNCTION
The Nitromat-M is a single-channel measuring and control system for furnace atmosphere- control in Nitriding- or Nitrocarburizing processes.
By switch settings on the backside of the instrument, Nitromat-M can be easily adapted to different sensor connections.
 The program controls of temperature and hydrogen, with program tracks for NH3 – N2 – Endogas – CO2, etc. eligible, is a propitious possibility for control Nitriding- or Nitrocarburizing atmospheres in furnaces.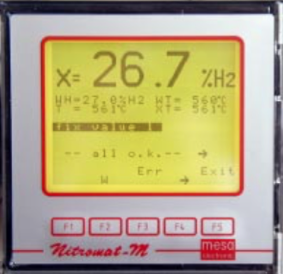 TECHNICAL DATA
Construction:
The type of protection of the front is IP 43
Dimensions:
144 x 144 x 300 mm (WxHxD)
Auxiliary voltage:
115 or 230 Vac ± 10%; 50/60 Hz
Power consumption:
About 15 VA
Analog Input:

H2 Analyzer
Thermocouple, type K or S
Terminal temperature (Pt 100)
External set value: analog or through a serial interface

Digital Input:

IN0: program release with setpoint program in progress: otherwise, controller locked
IN1: program continuation in succession
IN2: input disable

Switching outputs:

5 control tracks freely available
2 switching outputs for 1 motor valve for gas or solenoid valves for ammonia and H2
Signal actual values intolerance range
Signal program active
Signal Alarm indication (all outputs "open collector" 24 V / 100 mA)
Measuring range:
0,2…80 %
Analogausgänge:

selected, 0 to 20 mA, 4 to 20mA or 0 to 10 Vdc
for the H2 -Value

Display:
Graphical LCD display with 160 x 128 pixels
Operation:
Five keys (soft keys) with user guidance (menu guidance);
the respective function of the keys indicated on the display
Setpoint:

4 preset points for C level
99 setpoint programs for H2-profiles, internally storable and recallable; (programtraveltimeperprogram:upto100h)
23segments/program
External entry by means of program generator, for example, 0…20 mA, 4…20 mA, 0…10 V.

Serial interface (option):
RS232
RS 422/RS 485
Climate:

Storage: -10…+60 °C
Operation: 0…+50 °C
5…95 %relative humidity, non-condensing