SPECIAL FEATURES:
The menu-guided operation, plain text
Foil keyboard
Exact control
Connections of one thermocouples Type "S" or "K" by choice
Program memory with 99 setpoint programs for K – and process temperature N (time-synchronous)
Program tracks, free eligible
Continuous control of ammonia, PID-control
Transfer output, KN
All inputs and outputs 4…20 mA (unless thermocouple)
Directly adaptation of flowmeter controller for NH3, N2, CO2, or endogas
2 ammonia flowmeter controllers for small or great quantity are choosable (thereby high precision)
Limit of control variable at ammonia quantity are separate possible
Possibility for initial gas
Setpoint programer for process temperature is indicated
Option:
• Serial interfaces (RS422/RS485)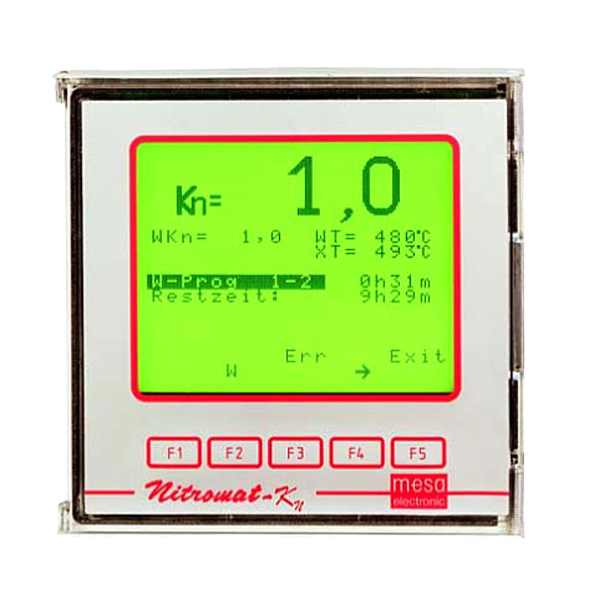 FUNCTION
The Nitromat-KN is a measuring and control system for exact furnace atmosphere-control in nitriding- or nitrocarburizing processes.
The 99 program controls of process-temperature and KN -values, with free eligible program time- tracks and analogous outputs for NH3 – N2 -Endogas- CO2, by mass-flow controls enable an exact control of gas-nitriding processes.
A controlled N2 – thinning of the Nitriding atmosphere is possible. By use of the initial gas, it is possible to reduce the complete treatment time.
In connection with the program time tracks and a program selection, in addition, a pre-oxidation of the components is possible.
TECHNICAL DATA
Construction:
The type of protection of the front is IP 43
Dimensions:
144 x 144 x 300 mm (l x w x h)
Auxiliary voltage:
115 or 230 Vac ± 10%; 50/60 Hz
Power consumption:
About 15 VA
Analog Input:

H2 analyzer
Thermocouple type K or S
Terminal temperature (Pt 100) H2
H2 – actual value NH3- actual value
Endogas or CO2- actual value
External set value: analog or through the serial interface

Digital Input:

IN 0: program release with set point program in progress: otherwise, controller locked
IN 1: program continuation in succession
IN 2: input disable

Measuring range:
0,2…50 KN
Analog output:

KN-Value
N2-actual value
NH3-control output
Temperature controller output
Switching outputs:

3 control tracks freely available
Signal actual values in the tolerance range
Signal program active
Signal Alarm indication
Signal switching for ammonia flowmeter controller
Signal CO2-bonus (at Nitrocarburizing)
Signal gas release

Serial interface (option):
Display:
Graphical LCD display with 160 x 128 pixels
Operation:
Five keys (soft keys) with user guidance (menu guidance);
the respective function of the keys indicated on the display
Set point:

4 preset points for C level
99 set point programs for KN- temperature profiles, internally storable and recallable; (program travel time per program: up to 100 h)
23 segments / program

Klima:
Storage: -10…+60 °C