FURNACE CONTROLLER FOR CARBURIZING MCON CARBO
ADVANTAGES: 
Direct wireless access to all new MESA equipment
99 programs with 24 segments and 16 control track
Custom alarms and soot limitation control
Diagram display
Ethernet and isolated RS485 / 422 Modbus interface
Data transfer and firmware update via USB interface
Up to 3 independent control loops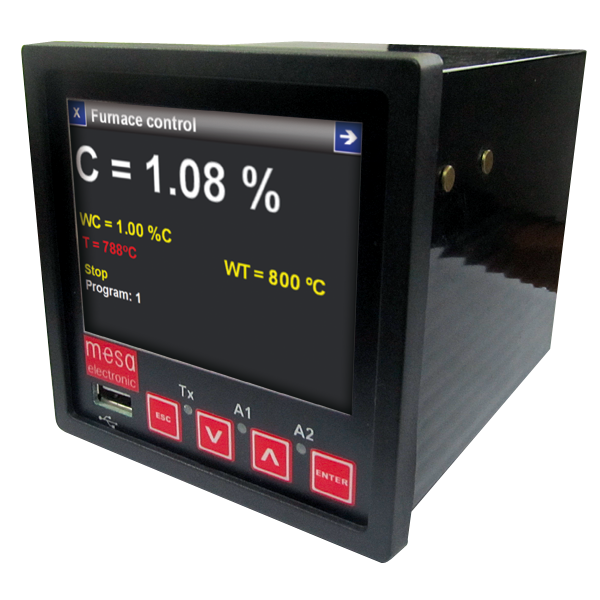 PARTICULARITIES:
 Controls and regulates C-level, oven and oil bath temperature
Various types of thermocouples, lambda-, O2-probes and other gas sensors e.g. CO, CO2
Redundancy according to CQI9, i.e. C-level measurement using one or two probes
Probe monitoring e.g. flushing, measuring internal resistance, etc.
 Integrated web server for remote access or maintenance
C-level correction by foil tests
Up to 3 PID-parameter settings for tempera- ture- and C-level control
Gas valve safety monitoring for custom tem- peratures
Color-TFT-touch-screen display with additio- nal keypad
RS485 Modbus-interface usable as internal circuit for I / O-expansions
Multi-user access with usernames, pass- words and access levels
Isolated analog inputs
Current supply 115 or 220V 50/60Hz or 24V
Optional: Profibus, DeviceNet and custom protocols
FUNCTION
MCON Carbo is a new and advanced controller for the control and regulation of carburizing processes in heat treatment plants. The controller is able to control up to three independent control loops. Next to the C-level, the oven temperature and oil bath temperature can be regulated additionally.. As a graphic recorder, the new controller can record all loops characteristic values.
All commercial thermocouples, lambda- and oxygen probes as well as gas sensors, e.g. CO, CO2, can be connected to the MCON Carbo. To ensure the required redundancy according to CQI9, the controller can detect, evaluate, and process signals of two measuring probes. In addition, the new generation of controllers offers various checking mechanisms and monitoring capabilities.
The carburizing process, with its involved C-level and temperature setpoints, can be controlled at the designated time domains by up to 99 programs with 24 segments and 16 control tracks. The control tracks can also activate digital outputs, once the program has reached the desired segment.
The user can define his own alarm thresholds which do not only control critical values but also activate therefore occupied outputs. Predefined alarms are triggered automatically if unexpected system conditions (reaching soot limit, probe errors, control errors, etc.) occur.
Our MCon Carbo is fully configured with 2 RS485 MODBUS (master and slave) and a TCP / IP Modbus slave interface. An integrated web server allows remote access to all new MESA devices.
User accounts with password protection improve the safety in usage by locking access levels, parameters, and functions depending on user privileges.
Of course, the controller is available with only one or two control loops.
TECHNICAL SPECIFICATIONS
Design:
ABS DIN 1⁄4 housing for panel mounting
Degree of Protection:
IP54 according to IEC 60529
Dimensions:
96 x 96 x 111 mm (W x H x D)
Control Loops:

3 control loops (%C control, furnace temperature, oil quenching bath)
3 PID-parameter settings per control loop PID or On/Off control

Control Output Types:

Heating/cooling, gas/air, valve control or analog output
Custom designed digital outputs for process control

Communication Interface:
Ethernet, non isolated RS485/422
Power Supply:
AC 85VAC…265VAC, 50-60Hz
or DC 10VDC…36VDC.
Power Consumption:
15VA
C-Level Measuring Range:
0…2.0 %C
C-Level Measurements:
Sensors for measurement: O2, lambda probes or
CO and CO2 analyzer
Use of one or two sensors
Fixed or measured CO and CO2 values
Up to 5 correction points
Spline interpolation for both probes
Isolated RS485/422, Profibus
Accessories:
Standard bracket mechanism for mounting